June 14, 2021
MOVING TO FRONT FROM JUNE 1--TWO MORE WEEKS TO SUBMIT COMMENTS TO THE ABA!
The proposed changes are available here.   Written comments on the proposals should be addressed to:  Scott Bales, Council Chair.  Please send comments to Fernando Mariduena (Fernando.Mariduena@americanbar.org) by June 28, 2021.
I am going to offer a few observations of my own on some of these proposals, which readers are free to incorporate into any comments they wish to send to Mr. Bales (with or without attribution to this blog).   Some of the proposed changes are minor, but many are not.  As a threshold matter, the ABA should have to explain why the existing standards were not more than adequate, especially since some of the proposed changes will impose substantial costs on schools and seem ill-supported by evidence.
(1)  Proposed changes would replace previous language requiring "concrete action" and "reasonable efforts" related to diversity, to a standard that demands "demonstrat[ing] progress."   What does "progress" mean?  If a very diverse law school becomes slightly less diverse after a few years (but is still extremely diverse), does that mean it is in violation of the standard?  That would seem bizarre.   Suppose a law school becomes more diverse by enrolling more Asian-American students, but fewer African-American students.  Is that "progress" within the meaning of the Standard?  What if it enrolls more students with disabilities, but fewer Hispanic students?  How is "progress" to be measured?  Why is it a preferable standard?
(2)  The proposals impose a substantial new burden on schools to collect and maintain data that will be both costly and time-consuming, and will almost certainly require schools to hire additional administrative staff (see esp. 206-3 and 206-4). This includes publishing "threshold data disaggregated by race, color, ethnicity, religion, national origin, gender, gender identity or expression, sexual orientation, age, disability, or military status" (several of these categories are new), plus requiring "quantitative and qualitative measures of campus climate and academic outcomes disaggregated" again by all the preceding demographic categories.  Wouldn't the money spent on these reporting requirements be better spent on financial aid, for example, that increased diversity?
(3)  Recommended actions that would demonstrate "progress...under the Standard" would include (206-5) "Diversity, equity, and inclusion training."   This raises two concerns.  First, there is evidence that such "training" is not effective, and can even be counter-productive.  Second, and even more seriously, such training will almost certainly violate the academic freedom rights of faculty at many (probably most) schools by demanding conformity to a particular ideology about "diversity," its meaning, and its value.  The ABA should not even be suggesting that schools violate the contractual and/or constitutional rights of faculty to academic freedom.  (There is a related problem with the mandatory "diversity statements" at certain public universities.)

June 14, 2021 in Legal Profession, Of Academic Interest | Permalink
June 09, 2021
What an embarrassment, mostly for Yale, but there's also a fair bit of myth-making (both about Rubenfeld and to a lesser extent Chua, and, again, about Yale).  I do suspect Heather Gerken's Deanship is not going to be long-lived.  A couple of excerpts:
Faculty members I spoke to have mixed feelings about it all. "There's a weird schism among the students where they want the place to be utterly transparent and utterly equitable," mused one who is sympathetic to that critique, "but they also want to keep the prestige and privilege that the place affords." Three other professors told me that Chua is the victim of overzealous zoomers who have confused the natural hierarchy of achievement — and Chua's right to favor whomever she wants — with a social-justice outrage. "There are a lot of mediocre students at Yale who were superstars in their little county fairs, and now they're in the Kentucky Derby and they're not winning their races and they feel like it's unfair because other students are doing better," says one faculty member who thinks the dean, Heather Gerken, was too deferential to students in how she handled the small-group affair...
Good to know what some Yale faculty think of their students!

June 9, 2021 in Faculty News, Of Academic Interest | Permalink
June 03, 2021
In my other academic field, philosophy, it is quite common (indeed probably the norm) for faculty to make lateral moves later in their careers, rather than earlier:  faculty in their 50s and 60s frequently take tenured positions at peer or stronger departments.  When I started in law teaching in the early 1990s, this was very clearly not the case:  most lateral moves occurred 5-15 years into a teaching career, with lateral moves by faculty in their 50s, let alone 60s, almost unheard of, except for administrative appointments.  Yet just in the last couple of years, we've seen multiple lateral moves to peer or stronger schools by faculty age 55 and older.  For example:
Lateral faculty moving in their late 50s:  Curtis Bradley from Duke to Chicago; Robin Kundis Craig from Utah to Southern California; Mitu Gulati from Duke to Virginia; Ran Hirschl from Toronto to Texas; Nancy Kim from Cal Western to Chicago-Kent; Kimberly Krawiec from Duke to Virginia.

Lateral faculty moving in their 60s or older:   Naomi Cahn from George Washington to Virginia; Herbert Hovenkamp from Iowa to Penn; Lawrence Solum from Georgetown to Virginia; Gerald Torres from Cornell to Yale.
I may have missed some from the last two years that are also in these brackets, but this is fairly representative.
What explains this change in hiring practices?  I have a couple of hypotheses:
1.  As academic law as an interdisciplinary and scholarly field has matured, there is more appreciation for cumulative scholarly achievement over the long haul, with the result that more faculty with sustained achievement over decades are finding themselves in demand.
2.  The scholarly impact rankings that I started and Greg Sisk and colleagues at St. Thomas have continued--and which US News.com will now produce (and eventually incorporate into their rankings, I predict)--have probably enhanced the value of adding senior faculty with substantial scholarly profiles to a law faculty.  It may just be a coincidence that, for example, Virginia, which underperformed in the various impact studies, has hired a large number of high cited scholars in their 50s and 60s in recent years.

June 3, 2021 in Advice for Academic Job Seekers, Faculty News, Of Academic Interest, Professional Advice, Rankings | Permalink
June 02, 2021
UPDATE:  Stanford relents.  (The Stanford Law Dean has also sent a message to alumni noting that the Law School had nothing to do with this travesty.)
The Stanford Law student responsible for this very funny satire is now under investigation by Stanford, and his graduation is endangered!  What an embarrassment for Stanford!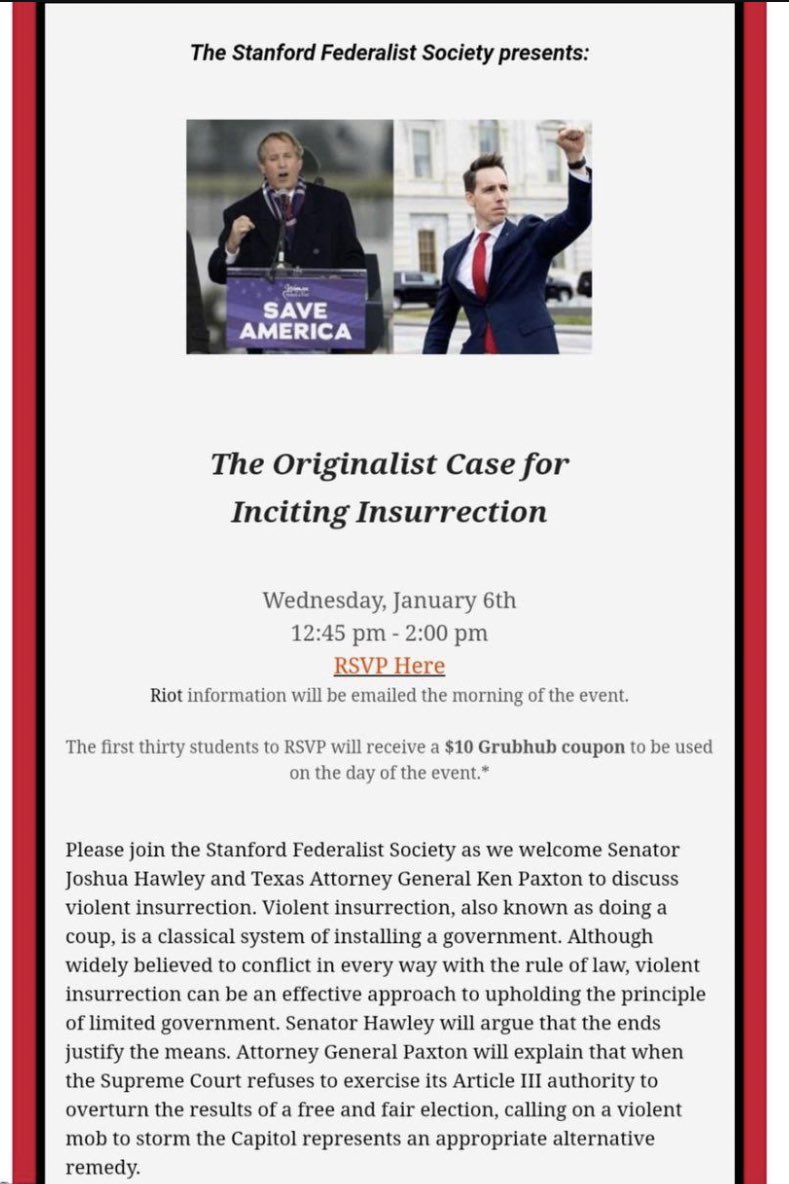 (Thanks to Jeremy Bearer-Friend for the pointer.)

June 2, 2021 in Legal Humor, Of Academic Interest | Permalink
May 25, 2021
...and apparently without consultation with the faculty.  He moved to Miami just two years ago.  I don't know more at this stage, just that faculty were caught by surprise.
UPDATE:  More details here.
ANOTHER:  Another news item.

May 25, 2021 in Faculty News, Of Academic Interest | Permalink
May 21, 2021
(Earlier coverage.)  From the public announcement:
The Review Panel did find...that it was an error for Justice Spiro to raise such concerns [about the faculty candidate] in the manner he did. The judge properly recognized the mistakes he made and expressed remorse. The Review Panel found this error serious but that it did not warrant removal of Justice Spiro from office.

May 21, 2021 in Of Academic Interest | Permalink
MOVING TO FRONT FROM MAY 19--AFTER I POSTED THIS ORIGINALLY, YALE REMOVED THE REPORT; A YALE LAW STUDENT KINDLY SUPPLIED AN ALTERNATIVE LINK FOR THOSE WHO WANT TO READ THE REPORT
...and the effect of class background on the student experience.  As the report notes near the start, during the 2018-19 academic year,
"Students called out the 'whisper networks' and gamesmanship that funnel prized opportunities, like clerkships and Coker Fellowships, to those under the wings of a few connected faculty. Those networks were exposed for what they truly reward: savvy over skill, and privilege over equity."
   Some of this, of course, is the predictable consequence of the school not having grades, and it no
doubt disadvantages those less skilled at the upper-class arts of brown-nosing, social climbing etc.


May 21, 2021 in Legal Profession, Of Academic Interest | Permalink