June 02, 2021
UPDATE:  Stanford relents.  (The Stanford Law Dean has also sent a message to alumni noting that the Law School had nothing to do with this travesty.)
The Stanford Law student responsible for this very funny satire is now under investigation by Stanford, and his graduation is endangered!  What an embarrassment for Stanford!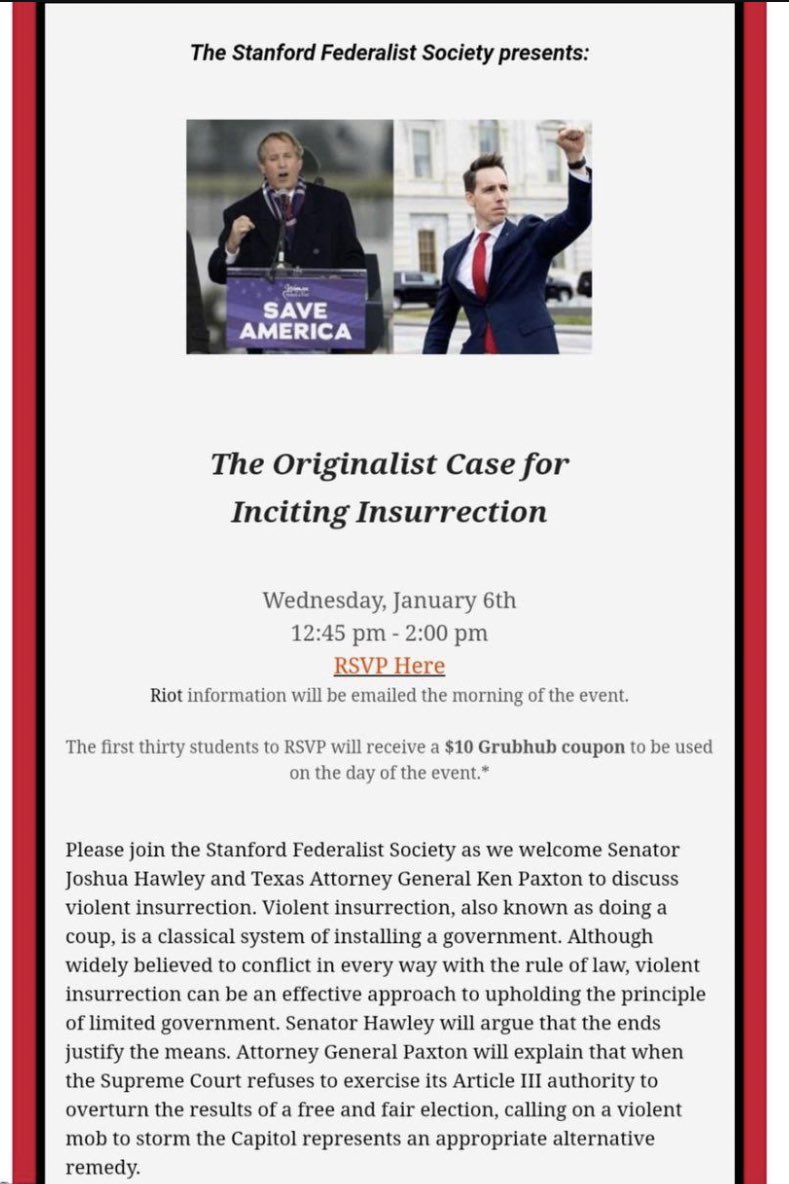 (Thanks to Jeremy Bearer-Friend for the pointer.)

June 2, 2021 in Legal Humor, Of Academic Interest | Permalink
April 01, 2021
According to a statement from US News.com editor Bob Morse:
Tuesday afternoon, after the rankings had been released, the Oracle of Delphi got in touch to inform us that per capita expenditures had been given too much weight in the formula, and had to be reduced by 5.731 percentage points, which were to be redistributed among employment rate at graduation (+1.21%), faculty/student ratio (.49%), volumes in the library (.21%), bar passage (.89%), and reputation among lawyers/judges (2.269%).   We did raise with the Oracle the fact that only 17 lawyers and judges in the country respond  to the latter survey anymore, so she informed us that percentage should instead be applied to a new category, "proportion of the curriculum that involves the study of law."
These revisions changed the rank of every law school, excerpt Mercer (which remained at #127).  Yale even dropped from #1 to #14.  The full revised rankings are here.

April 1, 2021 in Legal Humor | Permalink
February 24, 2021

February 24, 2021 in Legal Humor | Permalink
April 23, 2020
So ask Michael McConnell (Stanford) and Max Raskin (Adjunct, NYU) in a recent NYT op-ed.  I confess I hadn't expected Professor McConnell to hold the Marxist view that religion is the opium (or liquor) of the people, but that aside, I would have thought the answer was obvious:  people can practice their religion without going to a church or other religious institution; but you can't drink or eat unless you can go to stores to buy things to drink and eat.

April 23, 2020 in Legal Humor, Of Academic Interest | Permalink
April 11, 2019
Mark Lemley (Stanford) kindly shared this quite amusing open letter:
                                                    Please Reject Me
                                An Open Letter to the Harvard Law Review
            The Harvard Law Review has rejected my articles in the past.  A lot.  Indeed, they may have rejected me more than anyone else in the legal academy.  I'm 0 for 140 or so at Harvard.
            Several years ago, though, they stopped rejecting me.  I'm not saying they accepted my papers.  They haven't, and probably they never will.
            No, what I mean is that they just stopped responding at all.  Oh, I get automated notices acknowledging that I've submitted a paper, vaguely hinting that they might read it.  And I get acknowledgements when I expedite my article after getting an offer elsewhere.  But it's been at least seven years since I've gotten even an automated rejection, much less contact from a human being. 
            Every law professor knows the automated rejection form.  There are the nice ones, assuring me that they really liked my paper and just "couldn't come to consensus."  There is the everpresent "we have carefully considered your paper, but we get so many good submissions that we couldn't take yours."  There is the more dispassionate "unfortunately we can't publish your paper."  But from Harvard?  Nothing. 
            And they're not alone.  In the last couple of years more top reviews have been ignoring papers altogether rather than giving us the bad news.
            As an author, this sucks.  Would I like you to accept my paper?  Sure I would.  But even more than that, I'd just like to know.  Did you read it and decide it wasn't good?  Did you just not get to it in time?  Did you take a look at the title, realize it's about patent law, and read no further?  [As far as I can tell the Harvard Law Review has never in its history published a patent law article.  Certainly it hasn't done so in the 31 years I've been in law].  Fine.  I'm a big boy; I can take it.  Just tell me, please. 
            Yes, I know you're busy.  But you've already got an automated system; it can't be that much more work to generate an automated email telling me what I already suspected. 
            For starters, it would be the polite thing to do.  [Think how you'd feel if authors didn't withdraw their papers when they'd accepted offers elsewhere].
            But you're not just being rude to me.  You're being rude to every other law review editor in the country.  We law professors have all submitted our papers to you, and we all harbor the secret hope that maybe this time you'll publish our paper.  And so we lobby for the longest possible expedite window and wait until the last possible moment to accept our offers, because we haven't yet heard back from you, and maybe, just maybe, that's because you're furiously discussing whether to accept it before the deadline.  You're not.  Of course you're not.  But hope springs eternal.  Thus does your unwillingness to reject us gum up the works for everyone else, slowing acceptances and making it harder for reviews to find authors. 
            So please, Harvard Law Review, reject me.  Save the ghosting for parties. 
                                                                        Mark

Mark A. Lemley
William H. Neukom Professor, Stanford Law School
Director, Stanford Program in Law, Science, and Technology
Senior Fellow, Stanford Institute for Economic Policy Research
Affiliated Professor, Stanford Symbolic Systems Program
partner, Durie Tangri LLP
co-founder, Lex Machina Inc.



April 11, 2019 in Legal Humor, Legal Profession, Of Academic Interest, Student Advice | Permalink